Online shopaholic? For long, women have carried the tag of being shopping enthusiasts. Now, the scenario has completely changed. Both men and women who desire to look their best, and possess trendy clothes need to embark on quite a few shopping trips. The desire to possess high-end clothes, shoes, bags, and accessories is not wrong. Shopping will do a lot more than fill your wardrobe and up your style quotient. Shopping can lift your moral and act as a therapeutic session. You often feel good after a good shopping trip to the mall or online.
But one must know when to draw the line. If you cannot restrict yourself from needlessly shopping for stuff, then you may be suffering from shopping addiction.  People who have this addiction are called shopaholics. These addicts spend huge amounts of cash in the malls or online. They often end up purchasing things, accessories or clothes, which will remain clocked in the wardrobe. If not treated in time, this addiction can become serious.
Traits of a shopaholic
Shopaholics are normal people, only suffering from a weird condition. Their situation is not as rosy as was painted by the book named "Confessions of a Shopaholic." No matter how hard they try, they cannot stop themselves from shelling out big bucks on stuff they do not require. If you spend unthinkable amounts of cash on shopping and have these tendencies, then you may be a shopaholic.
   Unused clothes and things
A shopaholic's home looks like a mini shopping mall. You will see new clothes and items all over the place. Most of these have their price tags on. It means the person has not used these for once. If you really like and want something, then you will use it on several occasions. But a shopaholic forgets about the things he/she purchases or fails to find any use for it. These people will buy something just for the sake of purchasing it.
   Unplanned shopping is a start
You will head to the mall and buy a dress if you actually require one. You will not come back home with a handful of sarees, kurtis, shoes, and other unnecessary things. If you tend to do this, then you are a shopaholic. Unplanned shopping is a strong symptom. These shopping addicts don't put enough thought when they are purchasing something. A normal person can purchase three dresses at one go. A shopaholic will not stop until she has spent all her money.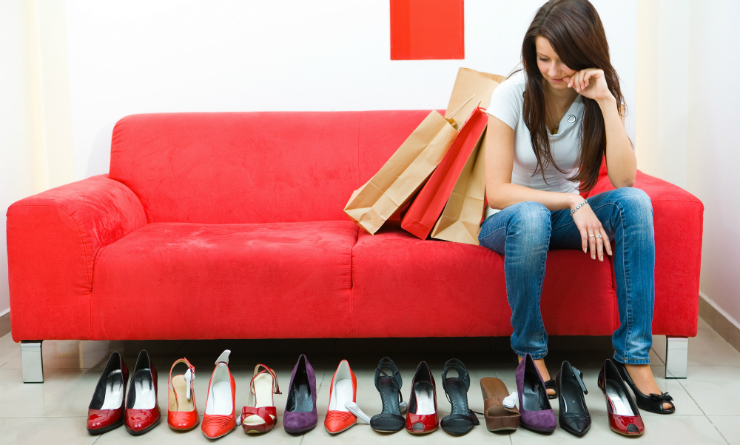 Shopping is sparked by emotional changes
What do you do when you are sad or happy? Most will say they binge on ice cream or chocolates when they are sad. For a shopaholic, any change in emotional state will spark off the desire to shop. They will either head towards the mall or log online and add things to their cart needlessly. Shopaholics equate shopping with emotional conditions.
   Shopping gives an unexplainable high
Fitness freaks get a positive feeling after a nice workout. Similarly, shopping addicts get an adrenaline rush when they purchase clothes, accessories, shoes, and bags. Dopamine is released by the human brain when they feel pleasure. For shopping addicts, it happens when they purchase an item that catches their eye. As they cannot keep it under control, they become habituated to shopping.
   Guilt feeling is common
One is supposed to feel happy after a satisfying shopping experience. That is not the case with shopaholics. They often suffer from pangs of remorse and guilty feeling. It happens because they know that their recent haul will not come to any use. The guilty feeling depresses them, which, in turn, leads to another futile shopping trip.
Tips to save money while shopping
A shopaholic or not; knowing and staying within your budget is essential. Spending more than you intend to will burn a hole in your pocket. Creativity and smart thinking will allow you to shop to your heart's content, without messing up your savings. Here are some smart shopping tricks for this:
   Keep an eye on sales
Whether you are shopping online or in traditional stores, discounts and sales are ideal opportunities to get what you want at low rates. Most portal based and traditional stores offer discounts during occasions, Christmas and New Year. Stores announce the sale duration. It is best to hit the store in the early hours to get the best picks. With the summer season sinking in, Kurtis are the current trend with the discounts and offers flooding the stores.
   Online coupons for shopping
Outlets and online shops offer coupons to increase their sale and profits. Many collect these coupons and exchange them during actual shopping trips. These coupons lower the billing amount, and you can save a significant sum with ease. Newspapers, magazines, and online coupon stores are places where you can find these vouchers.
   Make a list and set a budget
Shopping experts stress on making a list before hitting the stores. It eliminates your chances of forgetting something and straying too far. Fixing the budget also helps in limiting shopping and increasing savings. When you know that you have to remain within a certain amount, you will not put in unnecessary things in the cart. Leave all your credit and debit cards at home. Carry only cash. That will keep you from spending too much.
   Sell unused things
Selling things you do not require will boost your savings, and put extra cash in your pocket that can be utilized for earnest shopping. Special stores purchase used clothes, which are in good shape, and items, which have not been used by the owner.
   Borrow from friends and family
You need not purchase something, just because something looks good on you. Especially if you intend to wear it only once. Borrowing it from your friend or family member will assist in saving significant amounts.
Apart from these, one can also learn to become creative with his/her styling. Mixing and matching outfits offer different looks every time. One can also create new dresses by recycling old garments. If you have the will, you will come up with a way.