WED | JuanHand Honest Review – Why the app is safe and legit | This article examines the legitimacy of the JuanHand online loan application. We have been looking for ways to increase our sources of revenue for day-to-day life as our country continues to struggle economically and has recently been hit by severe disasters.
Some people turn to the 5-6 pautang approach when they have exhausted all other options. However, we are all aware that this comes with a ridiculously high-interest rate as well as a significant risk to one's safety. A considerable number of Filipinos are unaware of the fact that Rule 5-6 is unconstitutional, as stated by the Supreme Court and published in this location by the Securities and Exchange Commission (SEC) of the Philippines. The question is, what other options are there for our fellow Juans who are desperately in need of cash?
The use of online loan applications has seen significant growth in popularity across the United States during the past few years. It has been one of the most convenient ways to borrow money in a short amount of time without the trouble of physically stepping into a bank. Both the Google Playstore (for Android devices) and the App Store make it simple to get the application onto a mobile phone and start using it (for iOs devices).
It appears that JuanHand is a cut above the competition when compared to the other available online lending apps. During the pandemic, not only were they able to provide financial assistance to people through their lending app, but they also took the initiative to support our healthcare personnel by donating personal protective equipment (PPE). During this time, they were able to do both of these things. They were able to help front liners from Ospital ng Makati, Diosdado Macapagal Memorial Hospital, Asian Hospital, Rizal Memorial Quarantine Facility, and Paranaque Hospital, amongst other hospitals, because JuanHand is a subsidiary of FinVolution Group, which is JuanHand's parent firm.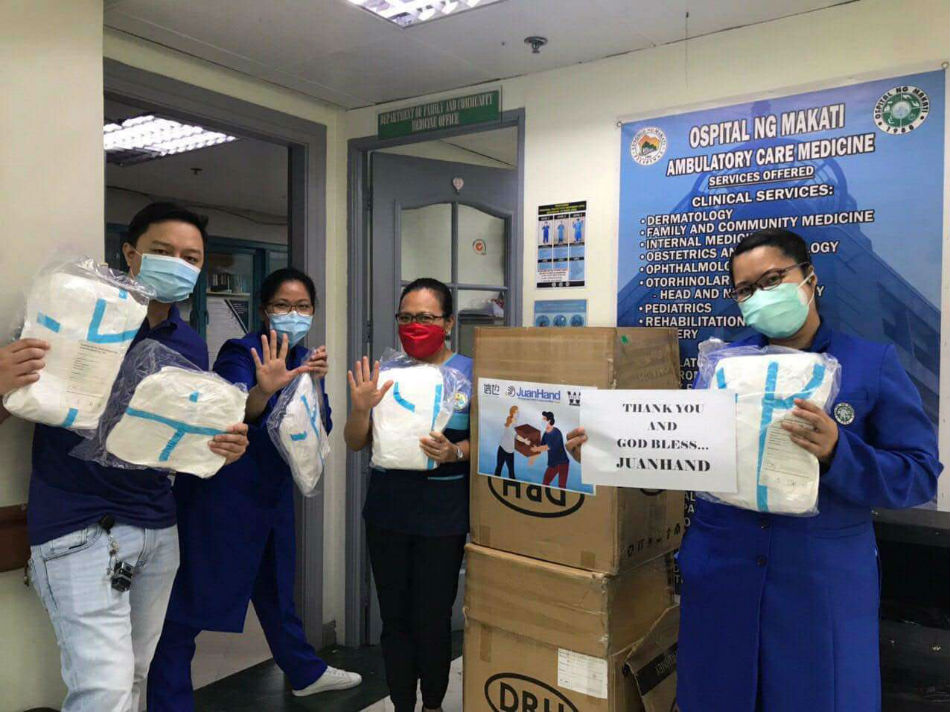 One of JuanHand's green flags is "doing charitable services," and it's not the only one. Let's go through some of the other crucial green flags that you need to keep an eye out for when searching for the appropriate OLA to put to use:
Certification and licensing requirements
The Securities and Exchange Commission has approved the registration of legitimate internet loan applications (SEC). Before the SEC grants them a license to engage in finance or lending, they must first complete a series of laborious steps. In most cases, reputable lending companies also have affiliations with other reputable professional firms.
Company Registration No. CS201825672 and Certificate of Authority No. 2844 are the identifiers that the SEC has assigned to JuanHand in order to grant it permission to conduct business. JuanHand is run by WeFund Lending Corp. You can verify this information by going to the SEC website. WeFund Lending is a division of FinVolution Group, which is recognized as one of the most successful financial technology corporations in Asia and is traded on the New York Stock Exchange (NYSE: Ticker FINV).
In addition, JuanHand is associated with reputable and well-known companies in the business. These partners include UnionBank, Lazada, Sun Life Grepa, SkyPay, and Multysis, as well as data partners FinScore, Trusting Social, CIBI Information Inc., and Credit Information Corporation.
Privacy and Security
Within the context of our study of JuanHand, we investigated the characteristics of legitimate online loan applications. The data of each user should be kept secure and secured in this age of digital technology. Every user who makes use of online loan applications such as JuanHand should be aware of the dangers that are associated with the privacy of their data. Some online loan applications have been the subject of quite a few complaints over this matter, and the SEC has been able to address those complaints over the course of the previous few years by putting an end to the business activities of some lenders. Even the National Protection Commission, also known as the NPC, has been rather active in examining the data privacy measures of these loan applications.
How can you be sure that the online loan application you will use is safe and secure when you make use of it? You should make it a point to read over the Privacy Policy that is included in the Terms and Conditions of the OLA as one of the first things you do. Make sure that you have understood what is being said and that you agree with it. Be aware of the information that will be requested of you when you apply for a loan since it will be required of you.
In this respect, we have confirmed that JuanHand is a legitimate service, one that users may access without worrying about their safety. JuanHand guarantees that all client information is safeguarded and encrypted, operating in full accordance with the requirements of the National Privacy Commission (NPC). In accordance with the Data Privacy Act of 2012, JuanHand will not ask for any confidential information without first obtaining your permission, thereby ensuring the peace of mind of each and every Juan. The Anti-Money Laundering Council and the Bureau of Internal Revenue are two examples of regulatory partners that JuanHand complies with (BIR).
Website and Customer Reviews
The world in which we currently reside is increasingly digital, and the majority of respectable businesses and organizations now have their own websites, on which you can get all of the information that is relevant to them. A respectable loan firm absolutely must be equipped with a customer support center that can be relied upon. Additionally, reviews from previous borrowers might provide extra confirmation regarding the quality of the services provided by an online lending app. When we go online shopping, one of the things that we do is check reviews of the products that we plan to buy. This gives us insight into the OLA that we intend to work with.
Not only does JuanHand have a real website (which can be seen here at their main website (https://www.juanhand.com), but the company also has an office in the Metro Manila area. The address of their site office is as follows: Trade and Financial Tower, 32nd Street Cor. 7th Avenue, BGC Taguig, Philippines 1630.
You can see for yourself how effective and simple JuanHand is to use by browsing the reviews left by other customers on either Google Playstore or the App Store. Just to give you an idea, I'll include a few recent reviews from satisfied customers here:
Before you jump aboard any other online loan application, you need to make sure that the lender meets at least these top three (3) criteria. Applause is definitely in order for JuanHand because he managed to get checks on all three. In these trying times, you can't just place your faith in anything without first conducting some kind of investigation into its history. Now that you've done some solid research, it's time to give it a try out on the road.
Have we addressed whether or not JuanHand is a legitimate loan app and website in this review? For sure!
—
Image by InspiredImages from Pixabay