World Executives Digest | Looking for the Best Exclusive School for Boys in Makati? Mine is Don Bosco Makati | by Homerun Nievera | As a former elementary student, I may be able to speak for myself in this narrative. Who else except a former student of Makati City's Don Bosco Technical Institute (or DBTI) could make such a statement? Before we get into the details of Don Bosco Makati, here's a quick history. Continue reading to learn more!
About Don Bosco Makati in Brief
Don Bosco Technical Institute in Makati, or simply Don Bosco Makati, is a private Catholic educational institution owned and operated by the Salesians of Don Bosco (SDB). For the most part, the campus is located at Chino Roces Avenue in Makati, Philippines. In January 1954, Father Carlo Braga, SDB, laid the foundation stone for Don Bosco Makati as Provincial. A year after the convent, a youth center, and an auditorium were finished, the first structure was completed. A group of Salesian priests led by Father Quaranta and Father Righetti opened the Youth Center at this time, together with Brother Nicolino Tambascia. In January of the next year, classes for both children and adults got underway right away. It was completed in June of the following year. Students in grades 5 and 6 were allowed to enroll for the first time this year. Thirty-six (36) of the school's inaugural graduating class of Grade 6 was the first Don Bosco Makati alumni.
My Life in DBTI
It was for my Preparatory studies that I initially enrolled at Don Bosco Makati. My mother used to reassure me before she left for work that I wouldn't be alone because my older brother was there. Early in college, I excelled academically and was recognized with numerous prizes. Despite the fact that I wasn't particularly diligent, I was competitive in a number of different ways. I became a member of the basketball team and also picked up the sports of volleyball and soccer along the way. I wasn't exactly an athlete, but hey, I was competitive enough.
Don Bosco taught me how to manage my time between academics and extracurricular activities. Because of its size, there was a lot to see and do on campus. My father had to go all the way from the old Magnolia Plant on Aurora Boulevard in Quezon City to pick up my older brother and me in the early evening. This provided me with a plethora of activities to partake in following the end of the school day. After school in the afternoon, I would collect soda bottles from the school canteen to earn my "deposit" from Don Bosco, who taught me the value of entrepreneurialism. While waiting for their school bus, guardian, or parent to pick them up, many pupils rented comic books.
You could join a slew of organizations on campus. Because my teachers thought I had a decent voice, I decided to join the Glee Club. The Hardy Boys series was another one of my favorite finds from the library. When the Hardy Boys were all gone, I switched to Nancy Drew and read them all.
To be honest, I was considering a vocation as a priest. In the end, I decided that the Junior Aspirants Club was not for me.
My Bosconian roots have stayed with me all these years later (now that I'm in my fifties). Yes, I was a little naughty as a kid, but my mother was quite severe about us achieving good marks, so I worked hard in school. I'm still practicing this discipline to this day.
General technology is a part of the 7th and 8th-grade curriculum (electronics-electrical technology, automotive-mechanical technology, computer technology, and industrial drafting technology).
On the basis of an exam, quarterly grade, and personal preference, students in grades 9 and 10 select one area of focus (the 6 specializations are listed below)
As a Bosconian student enters high school, he or she learns the basics of measuring, hand and light power tools, simple electrical circuits, and a more advanced information technology curriculum. There were a number of technical specialties available to you throughout the past two years:
Automotive Design Technology
Electronics Design Technology
Creative Design Technology
Mechanical Design Technology
Electrical Systems Design Technology
Information and Communication Technology
Unless you know something about the founder, St. John Bosco, this story will not be complete. Here's a picture of Don Bosco, which contains a YouTube movie of his life, before we wrap up this post.
About Saint John Bosco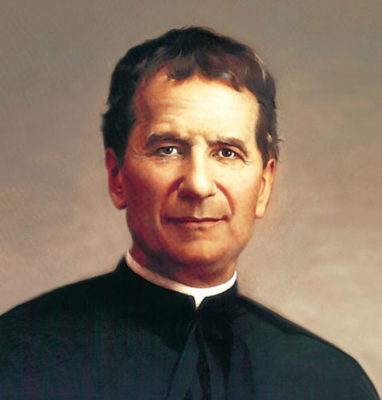 He was born on August 16, 1815, the same day as "Father and Teacher of Youth" John Bosco, Giovanni Melchiorre Bosco's great-great-grandfather.
John was raised in a Christian household and became a devout disciple of Christ as a result. When he was 9 years old, he had his first of many vivid dreams.
Imagining a group of boys enjoying a good time, he saw them. In this group of teenagers, he noticed a man and a lady of amazing stature. He was told by the stranger that if he was kind and considerate, he could "conquer these your buddies." In the words of "the woman," "keep your dignity and stamina. You'll figure it out in the end."
Acrobats and clowns performed for John in a traveling circus not long after that. In the end, he realized that he could use their techniques to attract and retain the attention of others..
One night, John put on a show for his old friends. Towards the end of the event, he offered a homily and invited his friends and neighbors to join him in prayer.
It was at this point that he realized his true calling lay in the priesthood.
On his first attempt, he entered the seminary in 1835 and received his ordination six years later, in 1839.
As part of his first tour of duty, he was dispatched to Turin, Italy. Fr. Bosco, as John was now called, set out to help the underprivileged youngsters of the city.
As a result, he began meeting up with the children where they worked and played in an effort to keep them out of the awful jails.
800 boys were cared for by Fr. Bosco and his mother, "Mamma Margherita," in the 1860s.
Father Bosco's job was to find and nurture young men he believed would make fine priests.
Fr. Bosco created the Society of St. Francis de Sales in 1859.
John Bosco passed away on January 31st, 1888. His sainthood was first recognized by Pope Pius XI in 1929, and then again by Pope Paul VI in 1934.
Saint John Bosco is the patron saint of a wide range of people, including apprentices, editors, publishers, schoolchildren, magicians, and juvenile delinquents. Every year on January 31st, people all around the world celebrate St. Nicholas' Feast Day.
Here's the video from Catholic.Org:
Looking for the Best Exclusive School in Makati? Mine is Don Bosco Makati